Prize-winners of the Asian Women Championships are awarded in Astana
14 december, 2017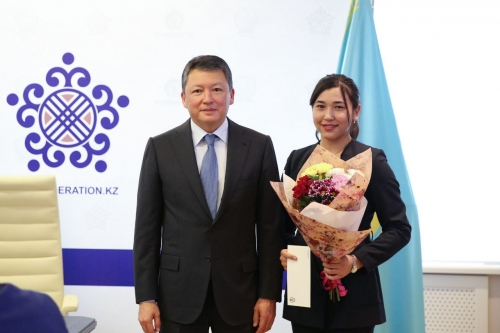 The president of the Kazakhstan Boxing Federation Timur Kulibayev awarded the champion and prize-winners of the Asian Women Boxing Championships held in Vietnam, Ho Chi Minh from November 2 to 8, 2017.
The Kazakhstan team has won 6 medals: one gold, one silver and four bronze medals.
Madina Nurshayeva became the champion in 64 kg weight category. Silver was won by Valentina Khalzova (69 kg), bronze belonged the two-time world champion Nazym Kyzaybai (51 kg), the prize-winner of the Olympic Games in Rio Dariga Shakimova (75 kg), the prize-winner of the Asina Championships 2015 Moldir Bazarbayeva (81 kg) and the world champion Lyazzat Kungeybayeva (81+ kg).
Also coach staff and coaches whose athletes got the results and complex and scientific group are awarded by prizes.
"The team successfully participated, our girls won 6 medals including gold of Madina Nurshayeva, our new champion who became the best in the strong competition in the continent and showed the force of our boxing school.
These awards are the sign of your merits in development of the Kazakhstan women's boxing and an incentive for future fulfillments. I wish you to remain inflexible fighters all the time and to go forward to the worthy purposes", - the president of the Kazakhstan Boxing Federation Timur Kulibayev said.
"On behalf of all women's national team I would like to thank the Kazakhstan Boxing Federation and fans, – the champion of Asia Madina Nurshayeva told at the awards ceremony. – We feel your support not only at such moments, but also when we come to the ring, prepare for fight or train in the hall. We feel your faith in us all the time and we do everything to fulfil your expectations. I'm sure that our team will bring home many medals next year too".