South Kazakhstan region won the Kazakhstan Boxing Federation's Cup
03 december, 2017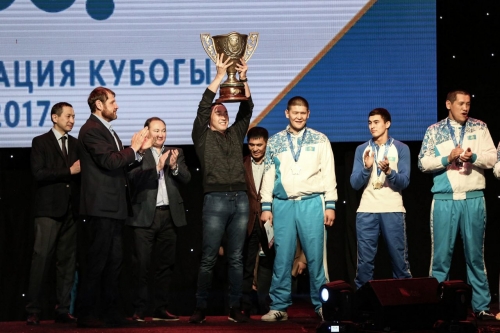 In Almaty there were the final matches of the VIII season of the Kazakhstan Boxing Federation's Cup within the Confederation of combat and strength sports Cup.
This year the best teams were Mangystau region and South Kazakhstan region. Mangystau team is a two times winner (2012 and 2016), the South Kazakhstan won this Cup in 2015.
The South Kazakhstan team received one point earlier because the Mangystau boxer in 52 kilograms weight category could not compete because of injury. One of the most interesting bouts was the fight between Mangystau boxer, the prize-winner of the World Cup, the Asian Champion, the Olympian Berik Abdrakhmanov and Sultan Zaurbek. Both athletes tirelessly attacked, but Berik, being older than the opponent for 10 years, was confidents as usually and won the bout. Nurbol Kalzhanov and the silver prize-winner of the Asian Championships 2017 Yerik Alzhanov earned the points for Mangystau. However, the luck was on the side of the South Kazakhstan. The prize-winner of Asian Championships Bekdaulet Ibragimov, Bekzod Khalmetov, Bek Nurmagambet, Yerkin Mukhamedzhan and Nurzhan Bekzatov won their bouts and made the total score 7:3 in favor of Shymkent.
Thus, the South Kazakhstan became the owner of the Cup for the second time and as well as in last years the winner wins a monetary prize – 25 million tenge.
- We have generally young boxers but all of them are skilled, - the coach of the SK team Nurlan Aituarov has told. – I have five world class masters of sports in my team, other - all masters of sports. We will spend 25 millions tenge for boxing development in the Southern Kazakhstan region. We will buy equipment and everything required for trainings.